Upgrade account plans
Want to collaborate or invite more people to your project? Or, do you want to create more than two projects within your account and transfer projects? Time to upgrade to a premium plan!
Navigate to your dashboard, here's where you will choose which project to upgrade to. Hover over a project and click on the button with the three horizontal dots, then select Settings.
In the project settings, look over to the left side of your screen and select Plan and Billing. Here you can view your current plan and its usage, to check whether you're getting close to your plan limits (like the number of projects and user seats in your account). You can also view your company details, payment methods, and billing history.
To upgrade your account plan, click on Upgrade account.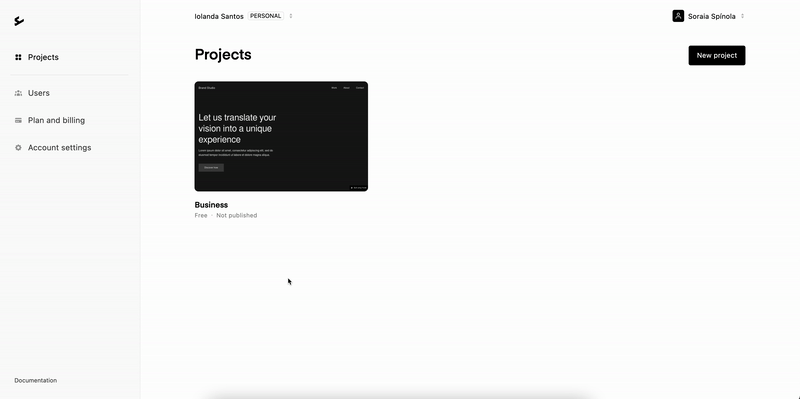 In this view, you can see how much each plan costs and what's included. You can upgrade plans by clicking on Choose Pro. A pro plan is a monthly plan that's for one user.
You're now on the checkout page. Here you'll see a short summary of your purchase.
Fill all of the fields in the Billing and Payment information sections correctly, and then click Upgrade plan. Your payment will be processed and your upgraded plan will be added to your project.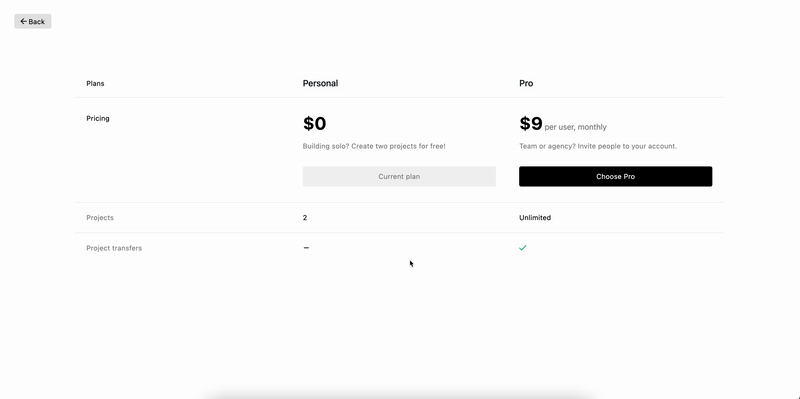 You can see the number of available user seats on the Payment and billing page under Usage. To add more seats for users, click on Add seats. Then choose the number of seats and confirm.
Adding or removing seats
From your dashboard, select Plan and billing. Then on the left-hand side, select Users. Here's where you can see how many users your account currently has. To invite more users, navigate to the top left corner and click on Invite user. Then add the email of the user you wish to invite and click Save changes.

Alternatively, you can also reach the Users tab through your dashboard. On the left-hand side, select Plan and billing. Then under Usage, you can see the number of user seats. Click Manage users to be redirected to the Users tab.