In 2020, Forbes called no-code one of the most disruptive trends and two years later, it's about to become mainstream.
No-code companies like Webflow and Airtable raised significant funding in 2021 and many new no-code tools entered the market last year (guess our favorite wink wink). The no-code community also continued to grow, with people coming together from all over the world to build awesome projects!
With low-code and no-code tools moving from hype to essential tools there's no better time for you to reap the benefits of this exciting new world. To get you started, we collected the best no-code software to build, automate and grow your business!
Get ready for your year of no-code development: here are the 16 no-code apps to use in 2022.
No-code platforms to build websites and web apps
Whether you're looking to build a complete app or need dynamic content for the web, in 2022 there are many no-code tools that can help you get it done (and oh so fast!). Below, we'll look at no-code software for different purposes, from Instagram websites to billing pages and chatbots.
1. Ycode
Create advanced websites and web apps in which you fully control the frontend and backend.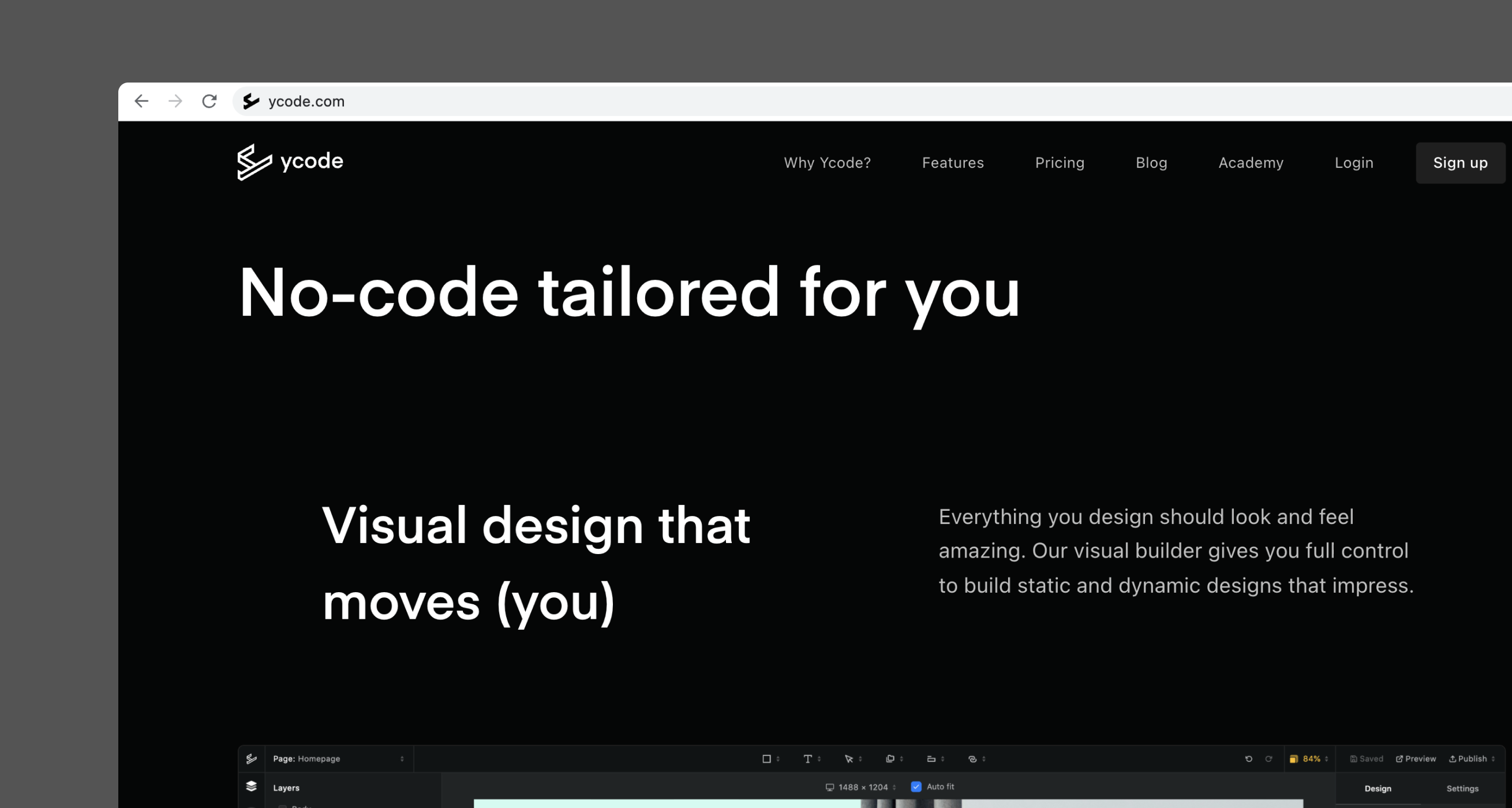 Ycode is the no-code builder that combines a robust backend with a highly customizable frontend. Makers enjoy Ycode's sleek UX and ease of use, as well as built-in Ycode features like a workflow builder, local databases, a native Airtable integration and user authentication. 
After seeing a demo, one no-code enthusiast described Ycode this way: "For anyone that wanted Webflow and Bubble to have a baby? Well, it's here!"
Start building from scratch or pick from no-code high-quality templates like portfolios, product websites and marketplaces. In the Ycode Academy, you'll learn how to use the tool in a series of video tutorials. Oh and, with an export service available on request, there's no vendor lock-in!
Quick rundown
Audience: Designers, (design) agencies, startups, enterprise

Pricing: Start for free and upgrade to a project plan (starting at $9 per month) whenever you need more features and space. To add more user seats within one account and collaborate with a team, you can use the account plans ($9 monthly per user).

Free trial: Yes, you can use the Free plan.
➜ Start building: Ycode
2. Ampstor
Easily build stories that look like the ones you post on Instagram, but function like real websites.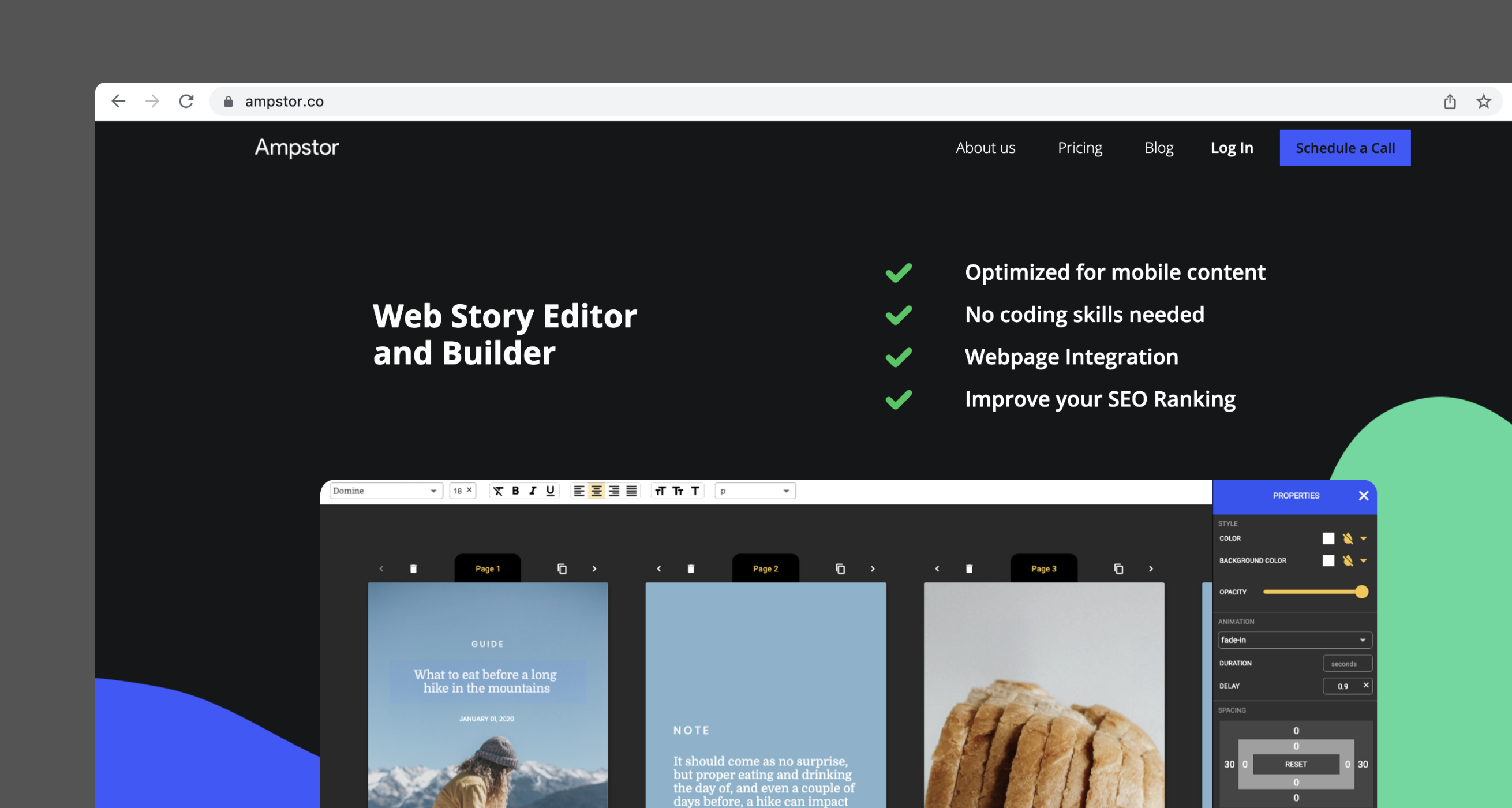 Ampstor's name is a remix of two words: AMP (Accelerated Mobile Pages) and stories. Their business idea is inspired by Instagram and Snapchat stories. With Ampstor, you can spark your storytelling and create websites in that same vertical mobile-fitting format—but with a lot more functionality. Use their large library of templates and stock pictures to build websites that make your brand shine.
Quick rundown
Audience: Small businesses

Pricing: Free for two weeks, then $9.99 per month for the Web Creator plan. There's also an SEO Pro plan that offers unlimited storage and can be purchased upon request.

Free trial: Yes, 14-day trial
➜ Start building: Ampstor
3. Billflow
Create recurring billing pages that allow customers to self-manage their digital subscriptions.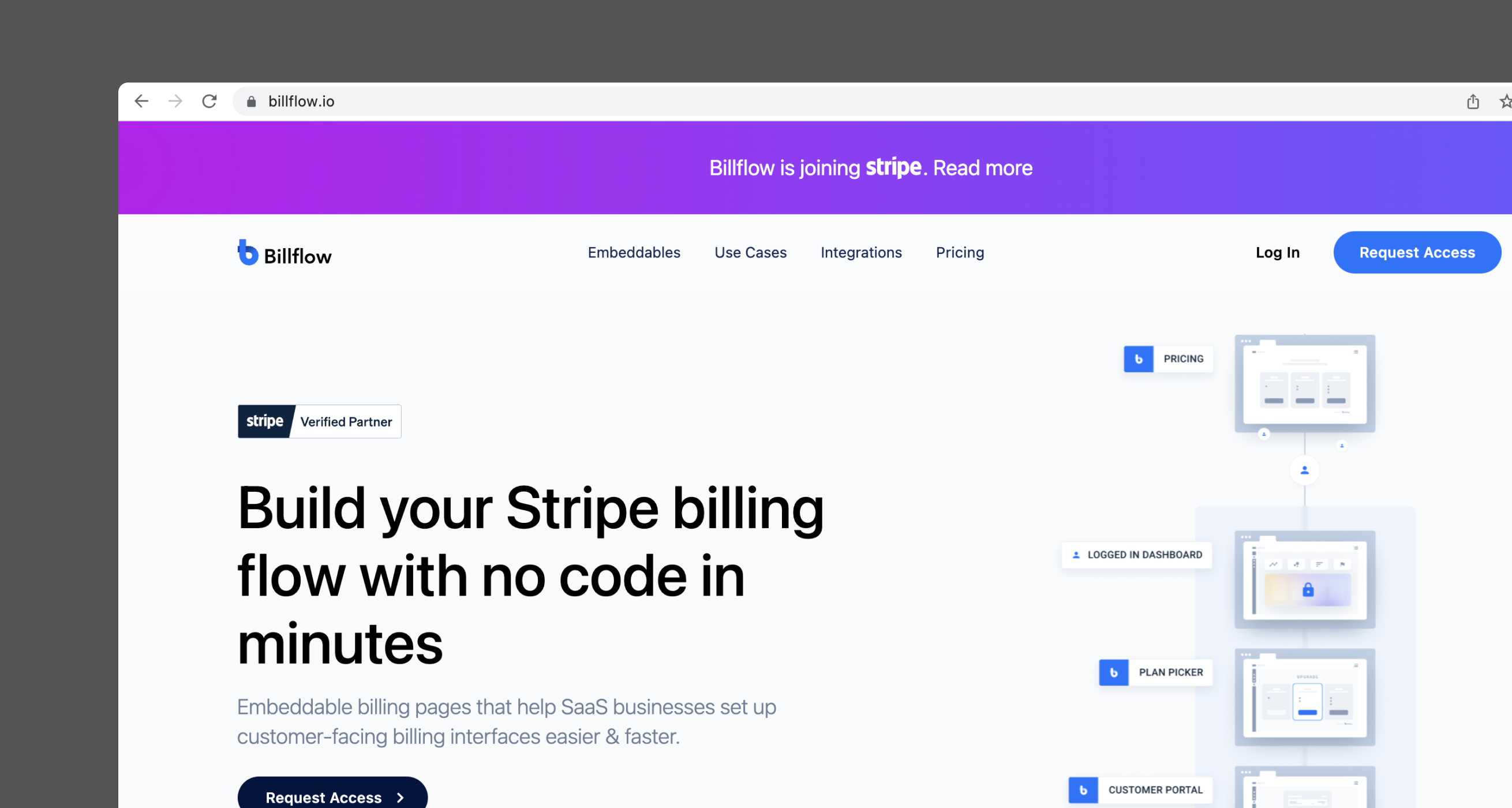 Billflow, formerly known as Servicebot, is the no-code solution if you're looking for a fast and easy way to create billing pages. After connecting the app to your Stripe account, you can customize your own pages to fit your brand image and optimize the payment experience for customers. Each customer can set up payments and manage their own accounts. Happy billing!
Quick rundown
Audience: Large SaaS businesses

Pricing: Start for free and start paying once you launch. The monthly Grow plan is $440 plus 0.5% of revenue and their Scale plan is $1600 monthly plus 0.2% of revenue (though it's negotiable).

Free trial: Free until you go live
➜ Start building: Billflow
4. Draftbit
Build, customize and launch a mobile app straight from your browser.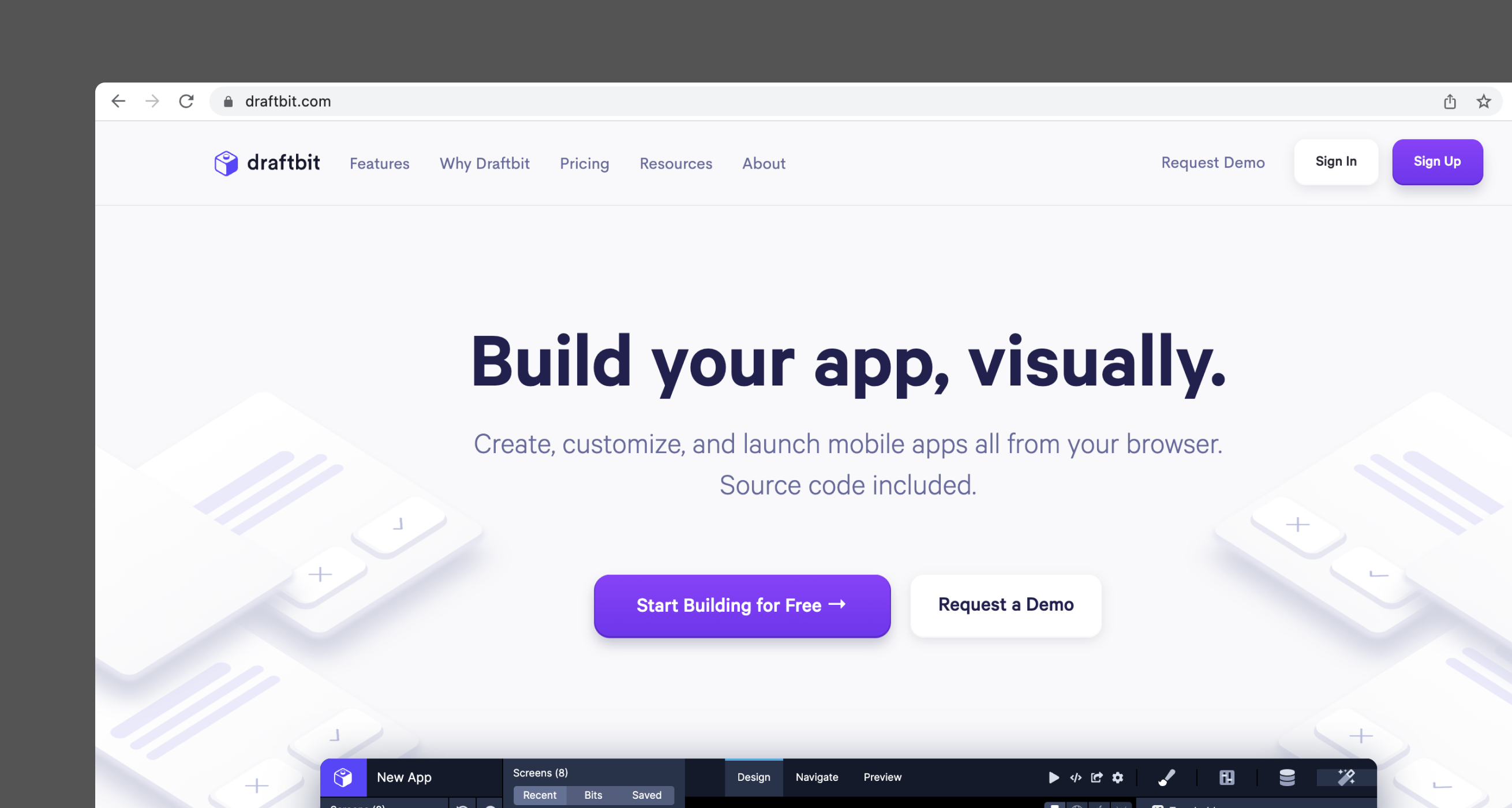 Do you have a great idea for a mobile application? The world is your oyster! With Draftbit, you can build mobile apps using nothing but a drag-and-drop browser editor. Customize, preview, connect and once you're ready to go, you can deploy your mobile application in under 60 seconds. All code is based on open-sourced frameworks and libraries, and your code is production-ready at every step. Draftbit left Beta in 2021.
Quick rundown
Audience: Prosumers, development agencies and enterprises

Pricing: Free for two weeks, then $19 per month for the Starter plan and $99 per month for the Professional plan. Enterprise plans with unlimited apps, workspaces, collaboration and more are available on request.

Free trial: Yes, 14-day trial
➜ Start building: Draftbit
5. Adalo
Go from side hustle to a fully-functioning app, and launch with one click whenever you're ready.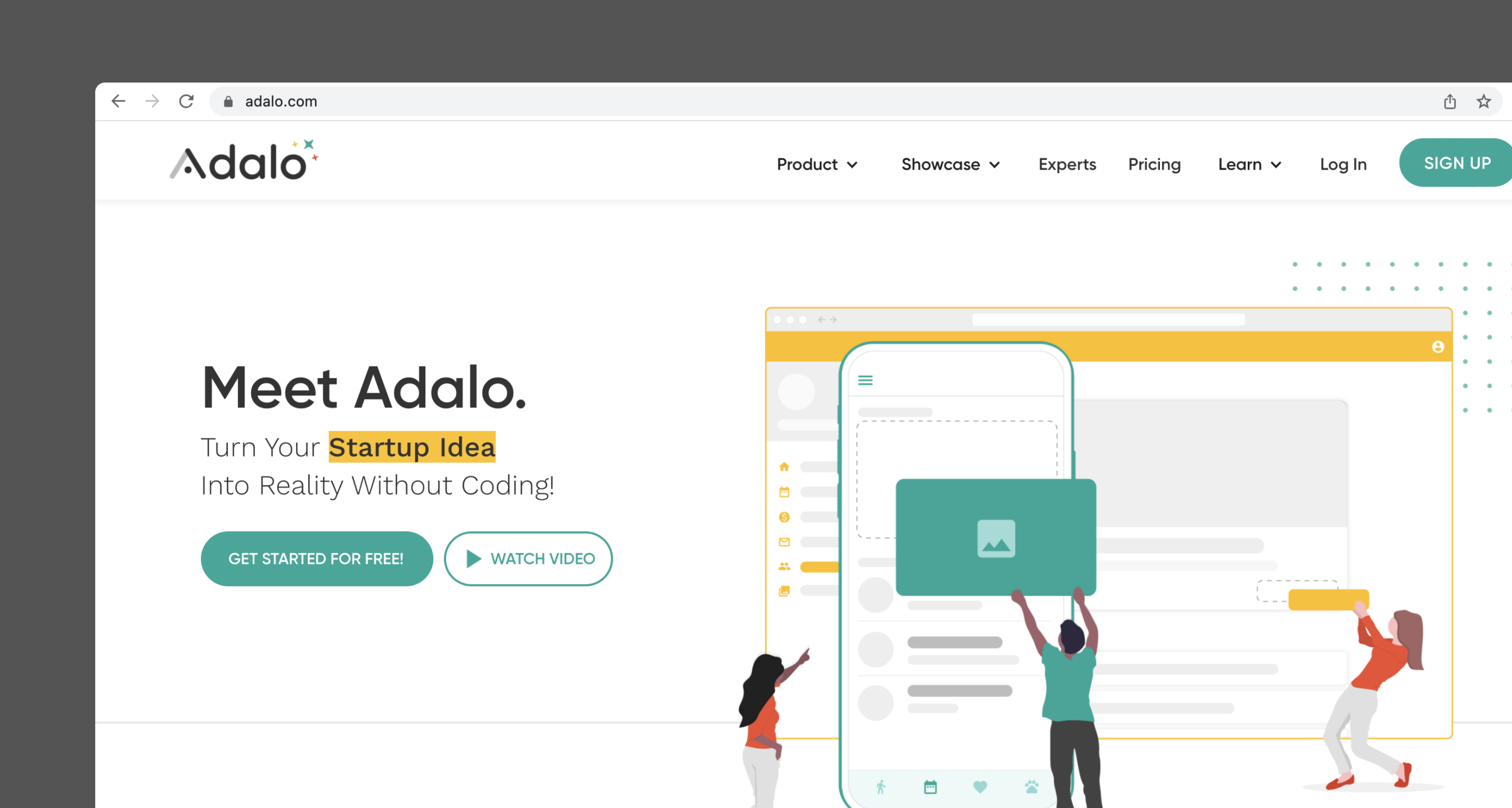 This company is doing things right, and it starts with their name. Adalo is named after Ada Lovelace, the world's first computer programmer (and total girl boss). With this no-code app builder, you can drag-and-drop visually-stunning layouts, add interactions and configure databases. Once you're happy with your new app, you can launch it in the iOS and Android app stores with just one click.
Tip
Doubting between Ycode and Adalo? Click here to see how these no-code tools compare.
Quick rundown
Audience: Businesses of all sizes

Pricing: Their free Explore plan allows for building unlimited apps but with restrictions. You can upgrade to a Pro plan for $50 a month or a $200 a month Business plan.

Free trial: Yes, free plan available
➜ Start building: Adalo
6. Voiceflow
Build custom tools that help you have conversations with web visitors, such as voice and chat assistants.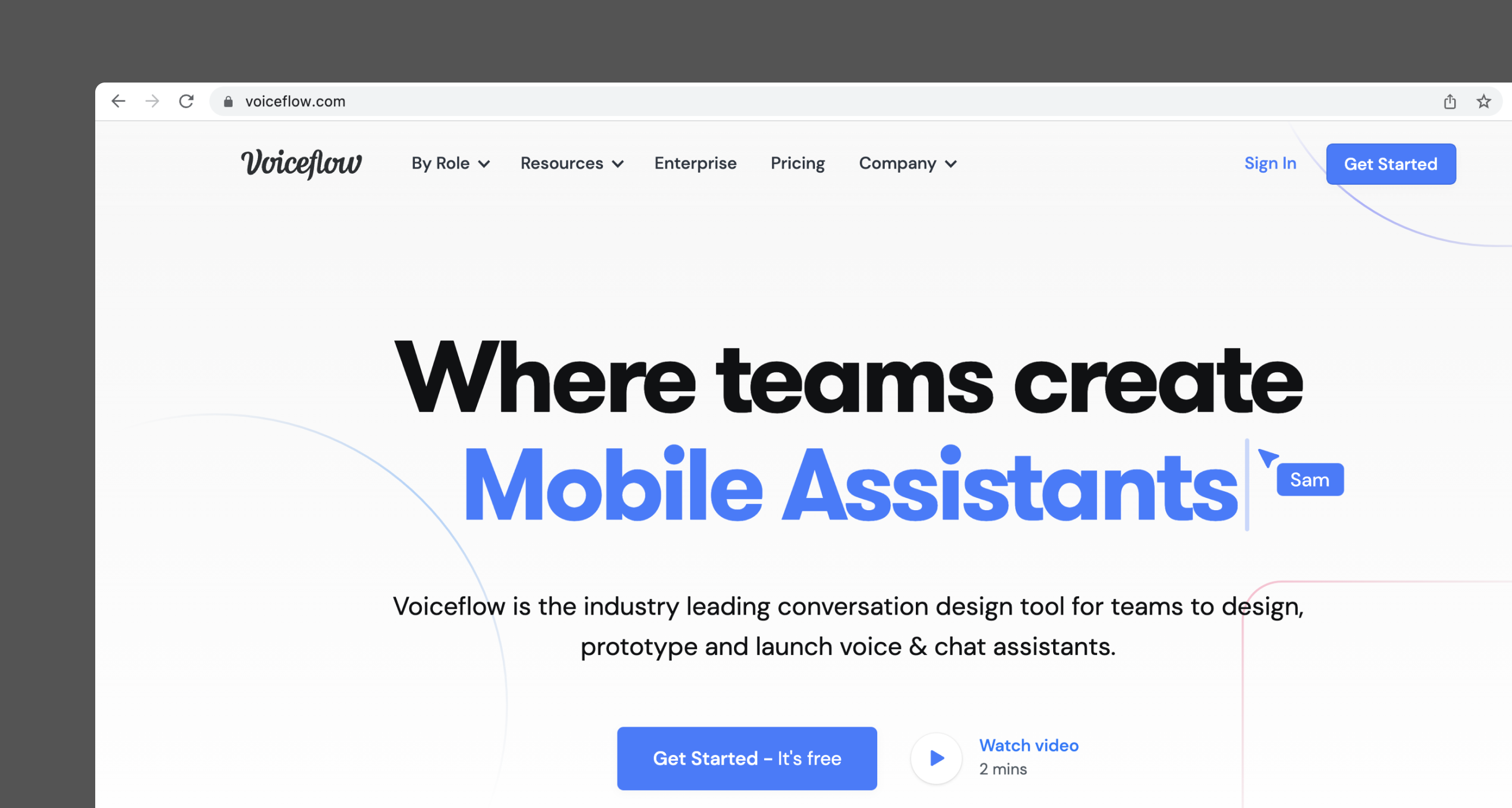 Nowadays, it's pretty common to see a chat icon on the bottom corner of a website. Talking in real-time to a support member is oh so convenient (if you don't forget about the chat like I do—a little too often).
Voiceflow is an app that helps build voice or chat assistants for websites and web apps. With their visual builder, teams can easily design, prototype and launch conversations for any channel. Among the projects to build are chatbots, custom assistants, interactive voice response (IVR), in-car assistants, and banking assistants.
Quick rundown
Audience: Designers, teams, and developers

Pricing: Their forever free plan for personal use lets you create two projects. Smaller teams can use the $40 per editor, per month Pro plan and scaling teams that require customization and security can purchase a custom Enterprise plan.

Free trial: Yes, free plan available
➜ Start building: Voiceflow
7. Webflow
Comprehensive no-code tool that lets you create custom websites in a visual canvas.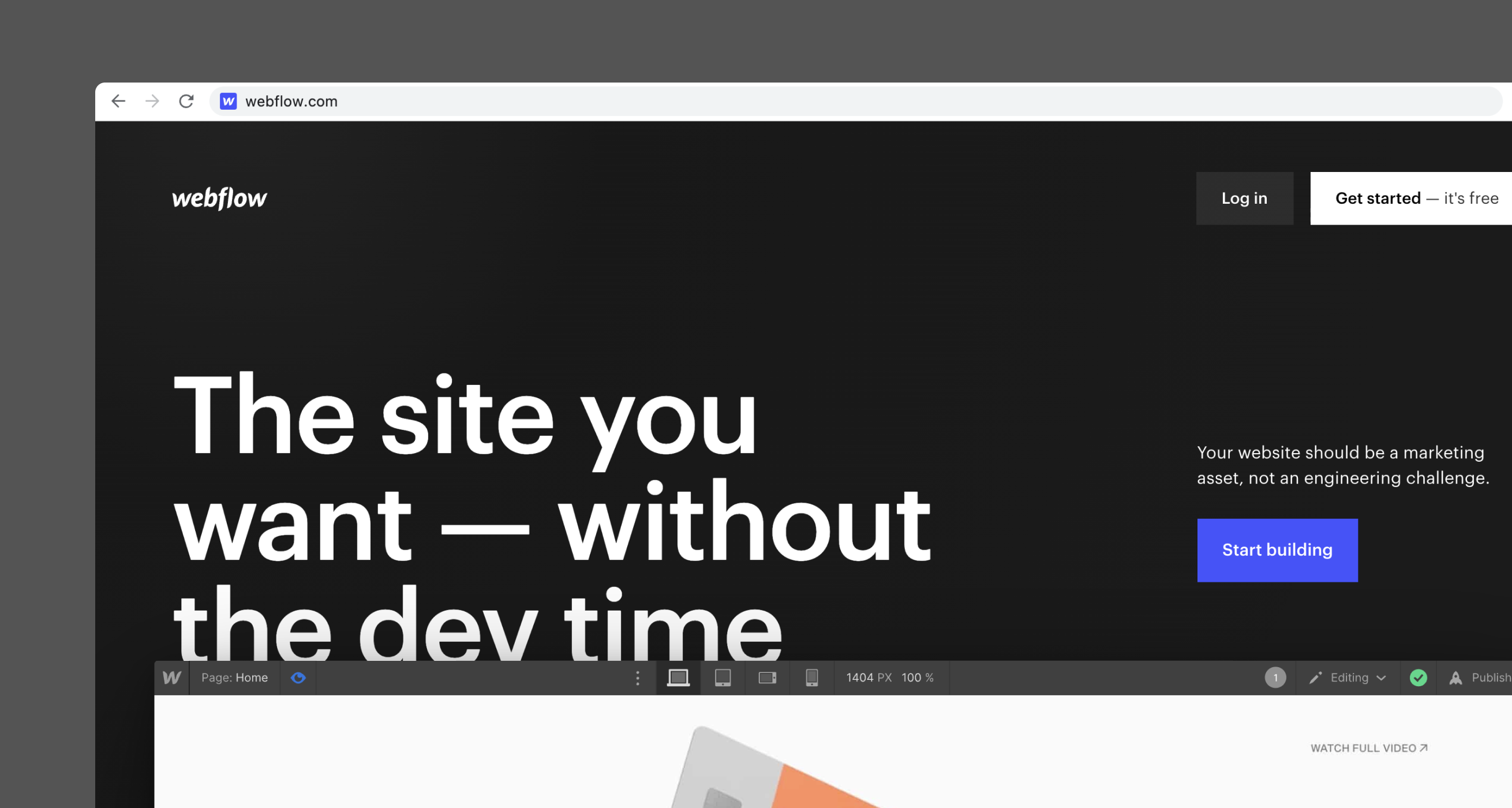 If you're familiar with no-code, you probably know this established software. Webflow has been around since 2013 and is a popular choice for people that want to visually build their website. 
With its many features, Webflow offers an all-round package to build beautiful static websites (no apps). In the past years, this big player did get some serious competition from newer no-code tools that offer similar features and more(!), like Webflow's missing app features: workflows, user authentication, and easy use of external APIs.
Tip
Wondering whether you should choose the popular Webflow or go with the newer, yet promising no-code builder Ycode? We've put them side by side, so you can easily find out how they're similar, and what makes them different.
Quick rundown
Audience: Creative professionals and entrepreneurs

Pricing: Start with their forever free plan, then upgrade to a paid plan if you need additional features. Choose from a variety of site and ecommerce plans, starting at $12 a month, to add project features. Then there are individual and team plans to expand the amount of projects you can create and add more account settings.

Free trial: Yes, free plan available
➜ Start building: Webflow
8. Bravo studio
Turn Figma app prototypes into native app designs to show friends, clients and project teams.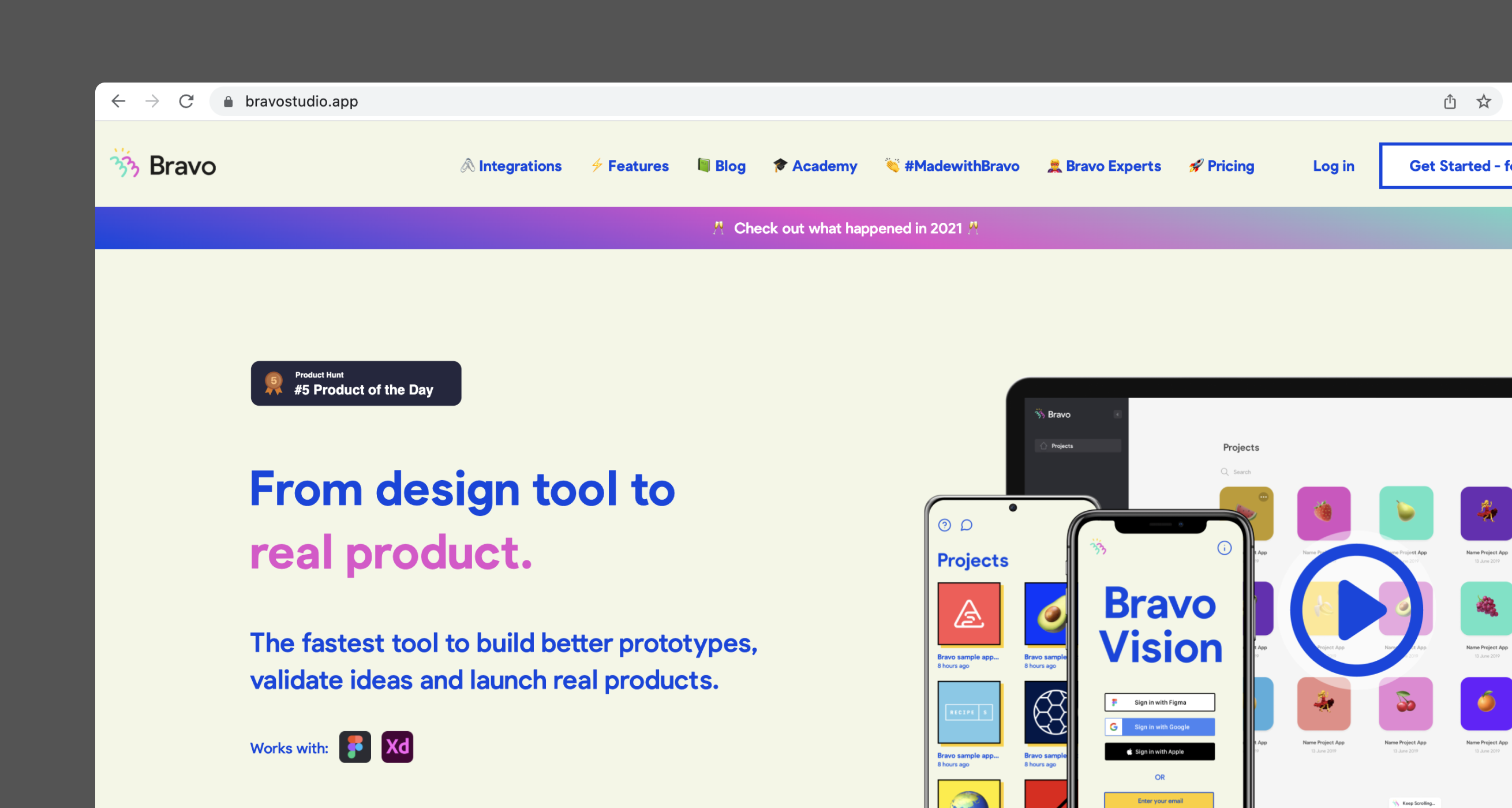 Are you used to building prototypes inFigma? Then Bravo Studio is the next step for you. After identifying each element, you can use this app to add mobile components, connect real data via APIs and publish a fully native iOS and Android app. Their roadmap is in full-force, and customers can follow the company's progress and upvote features on theirpublic Trello board.
Quick rundown
Audience: Businesses of all sizes

Pricing: Start building with their free Bravo plan that's forever free. The first paid plan, named Olé, starts at €19 a month (including a 15-day free trial) and their highest tier plan, Bravissimo, is €49 a month. An Enterprise plan is available upon request.

Free trial: Yes, free plan available
➜ Start building: Bravo Studio
No-code development platforms to automate
The more processes you can automate, the less manual work you have to do! When it comes to your website and online marketing, there's a LOT that can be automated. To help you build these automation workflows, here are a few useful tools.
9. Zapier
Connect apps, build smart workflows and automate processes with Zapier.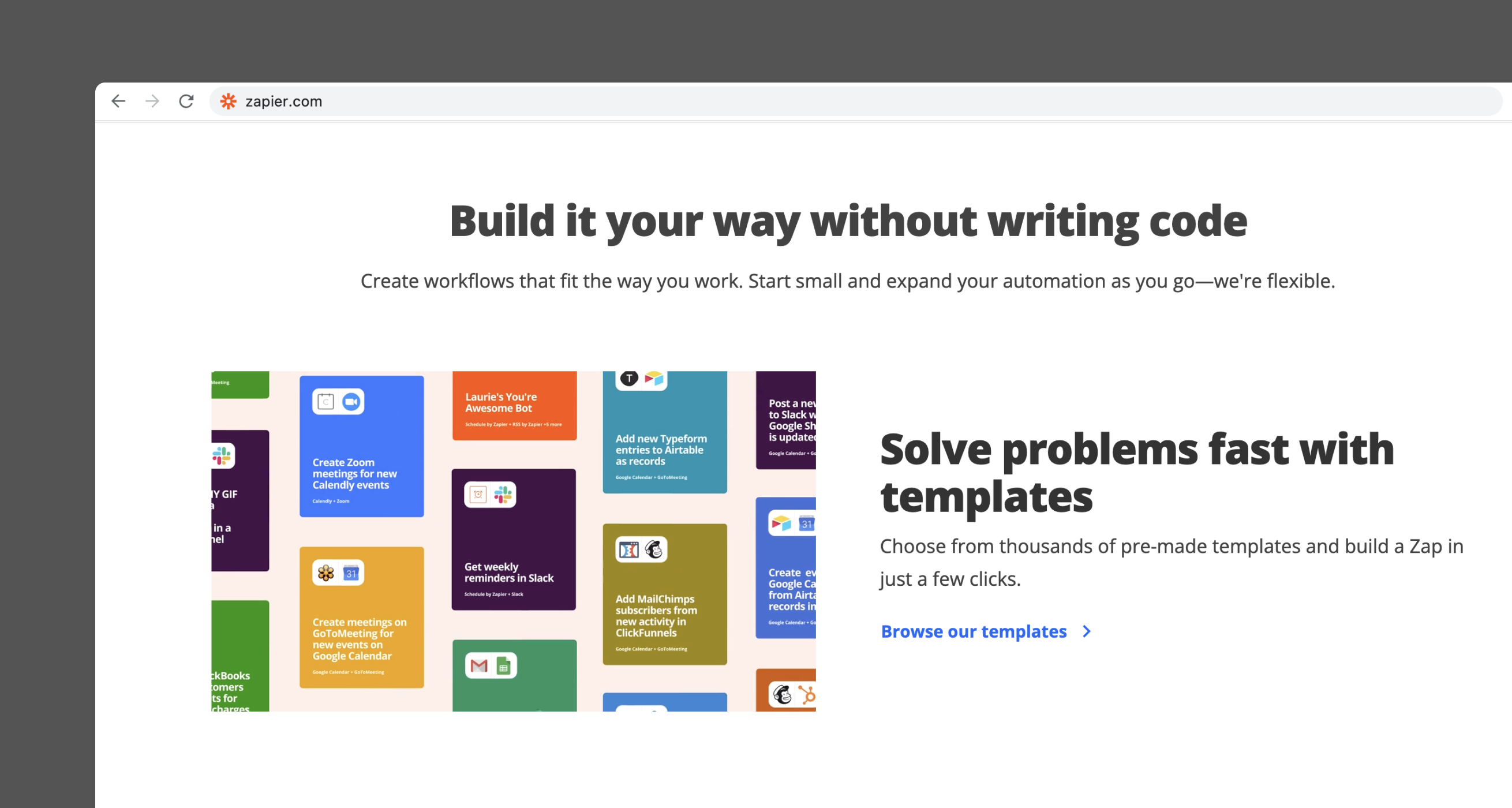 Looking to extend your no-code tool's functionality beyond what's possible inside the tool? Zapier is your answer! With this smart tool, you can connect to countless web apps, automate processes, and move information between them. Their so-called Zaps can be built visually, making a very technical process surprisingly easy and straightforward.
Tip: Zapier integrates with Ycode as well. Learn how to build zaps in this blog post.
Quick rundown
Audience: Small and mid-sized businesses

Pricing: If you need fewer than 100 tasks a month and just a few zaps, you can opt for their free plan. To upgrade, you can choose from four different plans. The Starter plan starts at €17.95 per month if you commit for a year or if you'd rather want to pay on a month-to-month basis it's €26.95.

Free trial: Yes, free plan available
➜ Start building: Zapier
10. Pathfix
Seamless, easy and quick! Connect your application to over 300 providers in a jiffy.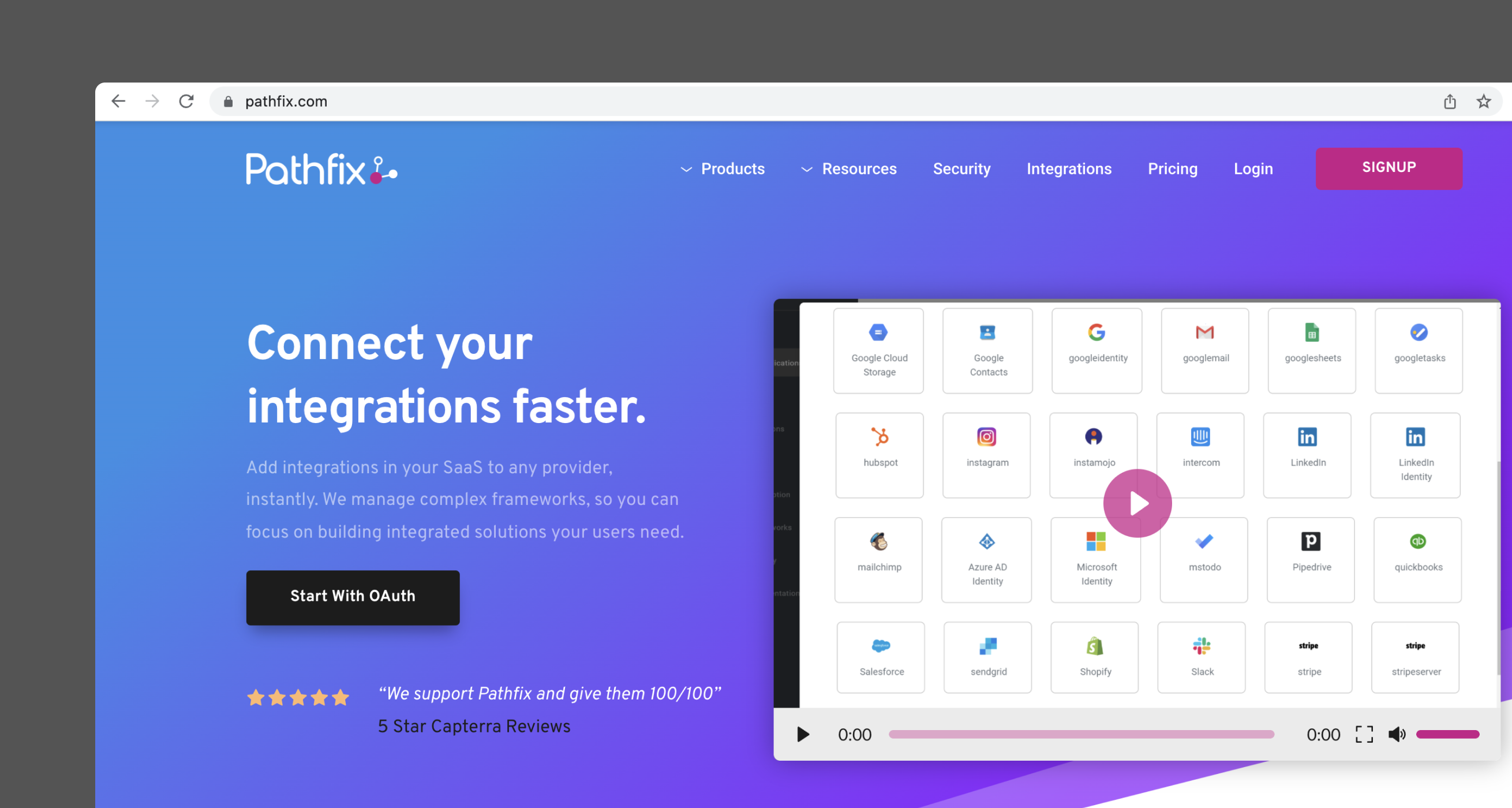 Hands up if even the thought of adding OAuth integrations to your SaaS makes your head hurt. Yet it's a process that really doesn't need to be so complex. Just ask Pathfix! 
This 2020-founded American company is the cloud-based solution to handle all your native integration frameworks. The proxy platform allows you to connect to over 300 integrations—including Github, Basecamp, Stripe, Shopify and Google Workspace—in less than five minutes each, without the need to manage any servers.
Audience: SaaS businesses of all sizes

Pricing: There are five plans in total. Start for free with a limited plan, and upgrade starting at $24 a month. The highest tier plan costs $289 per month.

Free trial: Yes, free plan available
➜ Start building: Pathfix
11. Airtable
Take spreadsheets a step further and use Airtable to manage data and build custom applications based on the information.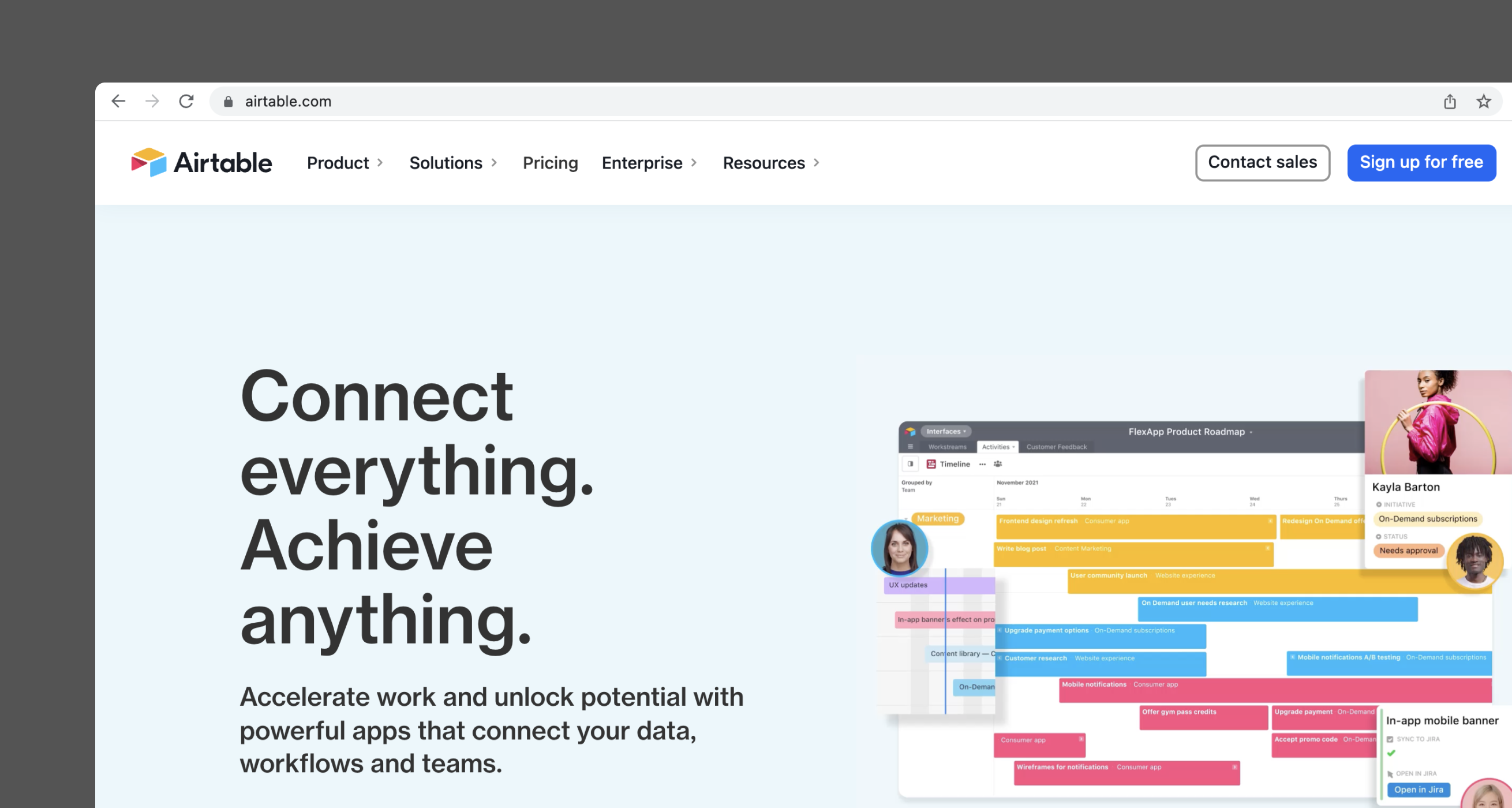 Without writing code, Airtable lets you streamline processes, workflows and projects to create things like job interview trackers, plan events, manage inventories, and much more. Each objective can be followed from start to finish, making it easy to track goals, keep up to date, and collaborate. Over 250K companies use Airtable to organize data and build custom applications!
Tip: Did you know that Airtable easily integrates with Ycode? Connect to Airtable within a Ycode project using the native integration. Learn how!
Quick rundown
Audience: Small businesses and teams within larger organizations

Pricing: Individuals and teams that are just getting started with Airtable enjoy the free plan. To upgrade, there are three different tiers, starting at $10 a month per seat. Their Pro plan for $20 a month is the most popular choice for Airtable users. Enterprises with big needs can contact sales for a custom plan.

Free trial: Yes, free plan available
➜ Start building: Airtable
12. N8n.io
Sync data between 150+ apps and then build advanced no-code workflows.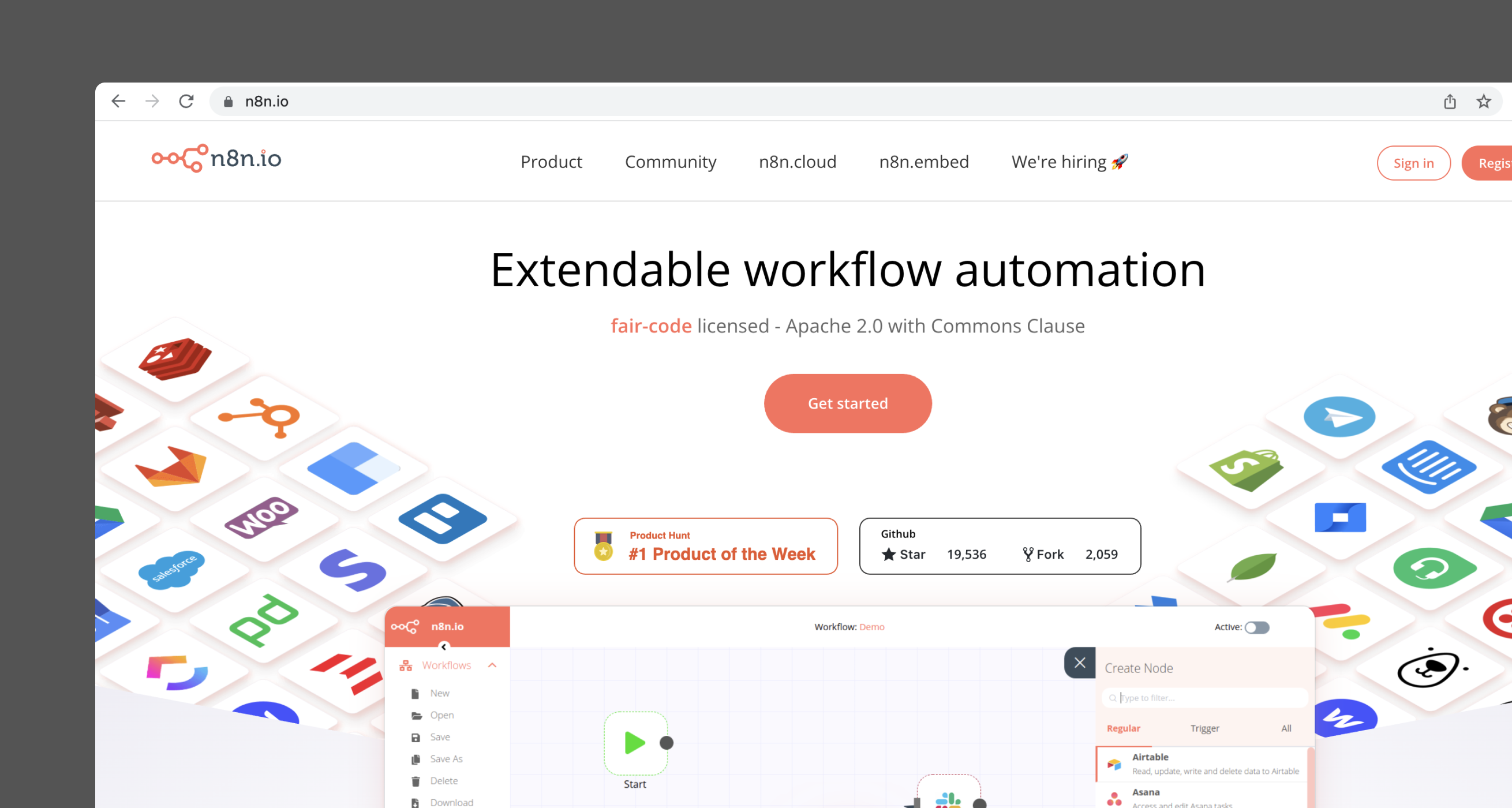 The clever n8n app (pronounced n-eight-n) lets you connect different apps and databases, so you can move and manipulate data between them. The tool, created in Germany, works with any app that has an API. With its user-friendly interface, you can build simple no-code workflows that go beyond ETL—complete with Javascript functions, custom HTTP requests and conditional logic.
Quick rundown
Audience: Businesses of all sizes

Pricing: With a fair-code license, n8n is free and open to use.

Free trial: Yes
➜ Start building:n8n.io
13. Phantombuster
Scale your lead generation process by easily scraping all the data you need to grow.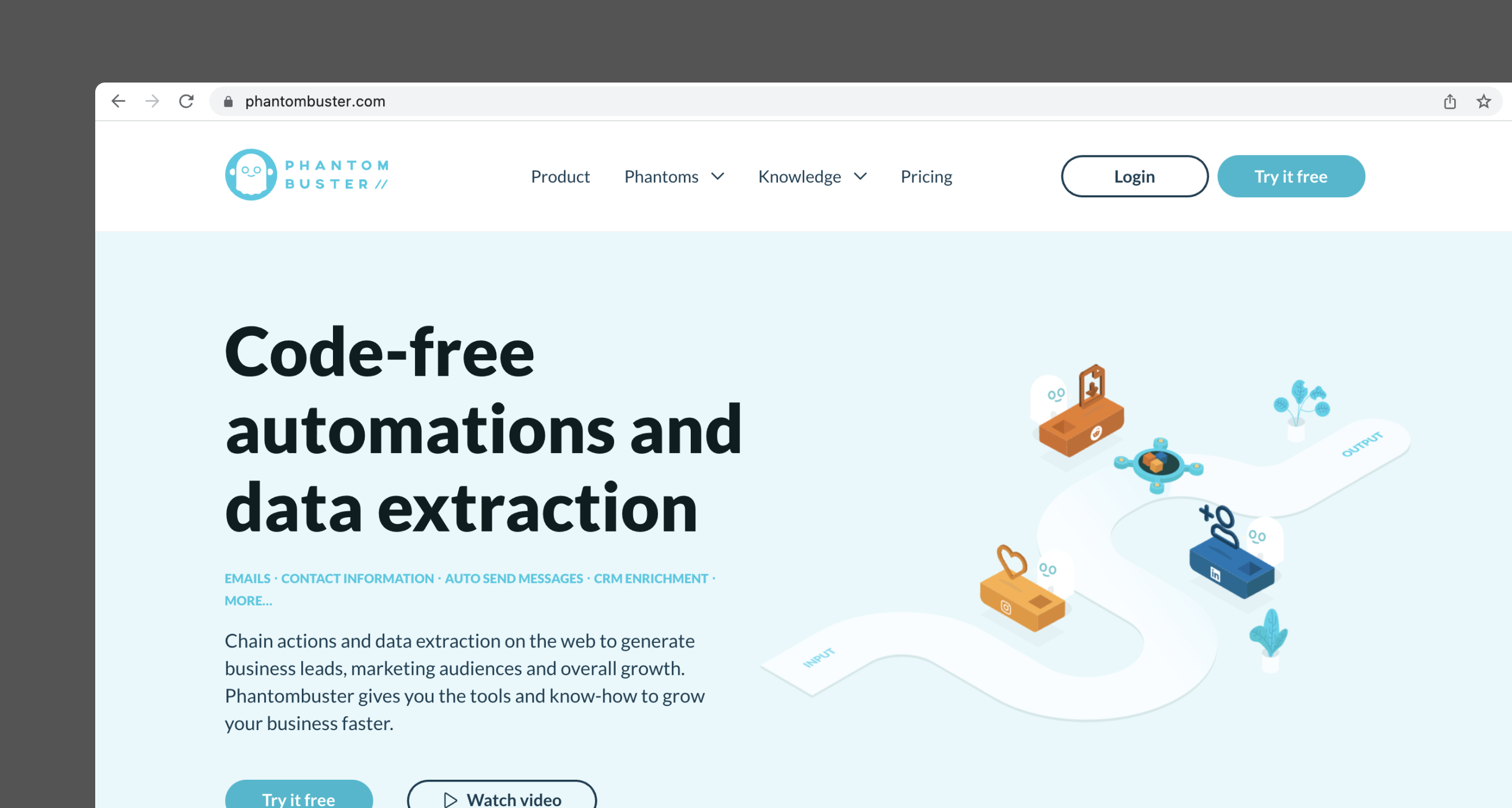 This French company is here to serve sales and marketing automations with ease. Phantombuster makes it possible to easily scrape data from your favorite social media app platforms. You can then add that data to your CRM, and use it to have better interactions with customers. With advanced no-code workflows to automate lead generation, you can grow your business and gain more visibility on the web.
Quick rundown
Audience: Sales, marketing and growth teams within businesses of all sizes

Pricing: There are five plans available, with the $70 monthly Business plan being the most popular one. Prices start at $30 and go up to $900 per month. When billed annually, you can save 8%.

Free trial: Yes, free plan available
➜ Start building: Phantombuster
No-code development tools to grow your audience
With your no-code website up and running, it's time to attract web visitors and more importantly, start building relationships. There's a few routes you can take to achieve this goal, such as email marketing, subscriptions, and more. Let's look at our favorite no-code development tools to grow your audience.
14. MailerLite
Set up beautiful email campaigns and enjoy advanced features such as email automation, pop-ups, and websites.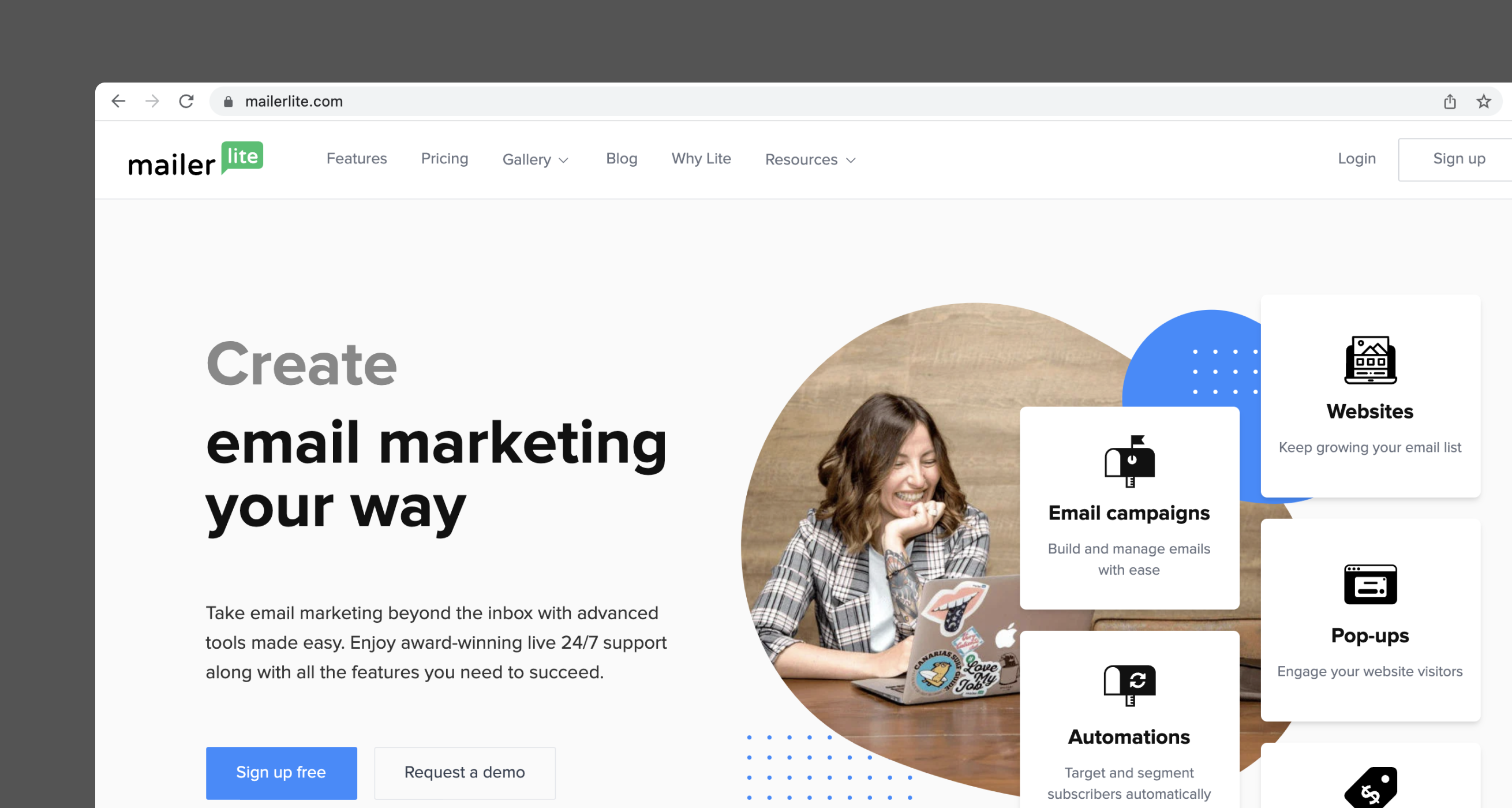 No-code platforms aren't just building websites, it also includes creating beautiful newsletters—which is exactly what you can do with Mailerlite! Using a drag and drop editor, you can build email templates for regular newsletters and email automation. And not only that, Mailerlite also offers the option to build landing pages and even simple websites, all using a simple visual editor.
Quick rundown
Audience: Anyone from freelancers to large enterprises

Pricing: When you have fewer than 1,000 subscribers, 12,000 emails can be sent for free with Mailerlite. Paid plans start at 1,000 people on your list and incrementally go up as you grow. There are also add-ons available such as site-building features, a dedicated account manager, and dedicated IPs.

Free trial: Yes, free plan available
➜ Start building: Mailerlite
15. Outseta
Launch and grow your subscription business all within one no-code platform.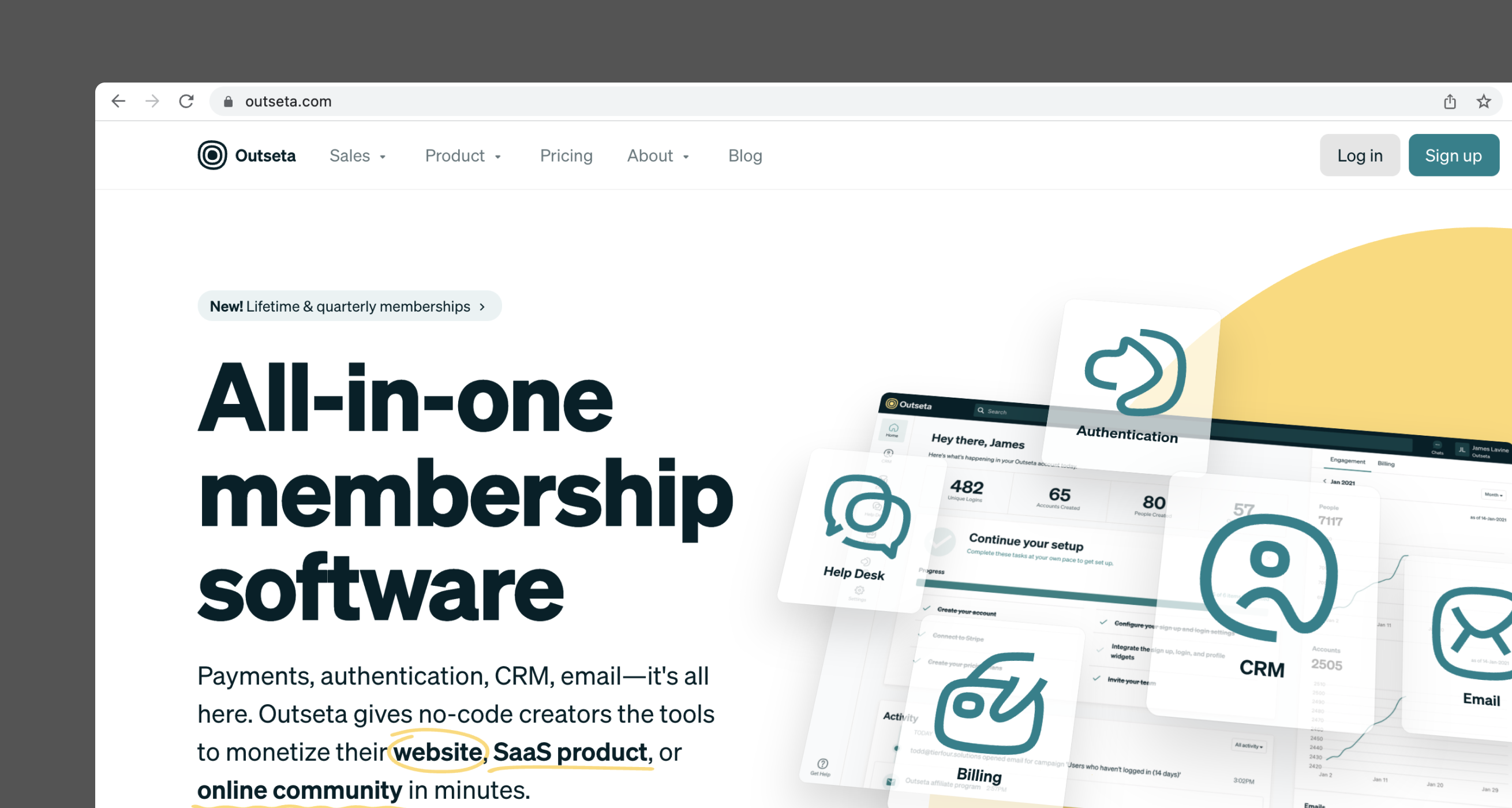 Outseta promises new startup founders a sense of calm. How? You can build your entire subscription-based service right in their app, together with your team. Everything you need can be connected, from helpdesk to CRM and payment services. This one piece of software will be the only thing you need to log in to when managing your business.
Quick rundown
Audience: SaaS and subscription businesses that are just getting started

Pricing: Plans start at $29 a month (Founder), then increase to $49 (Start-up) and $79 (Growth). Each plan has an additional 1% transaction fee, includes a 1-on-1 onboarding session and contains all features. Just the number of contacts varies.

Free trial: No
➜ Start building:Outseta
16. MailerSend
Transactional email service that makes it easy for developers (and your entire team) to create, maintain, and scale transactional emails.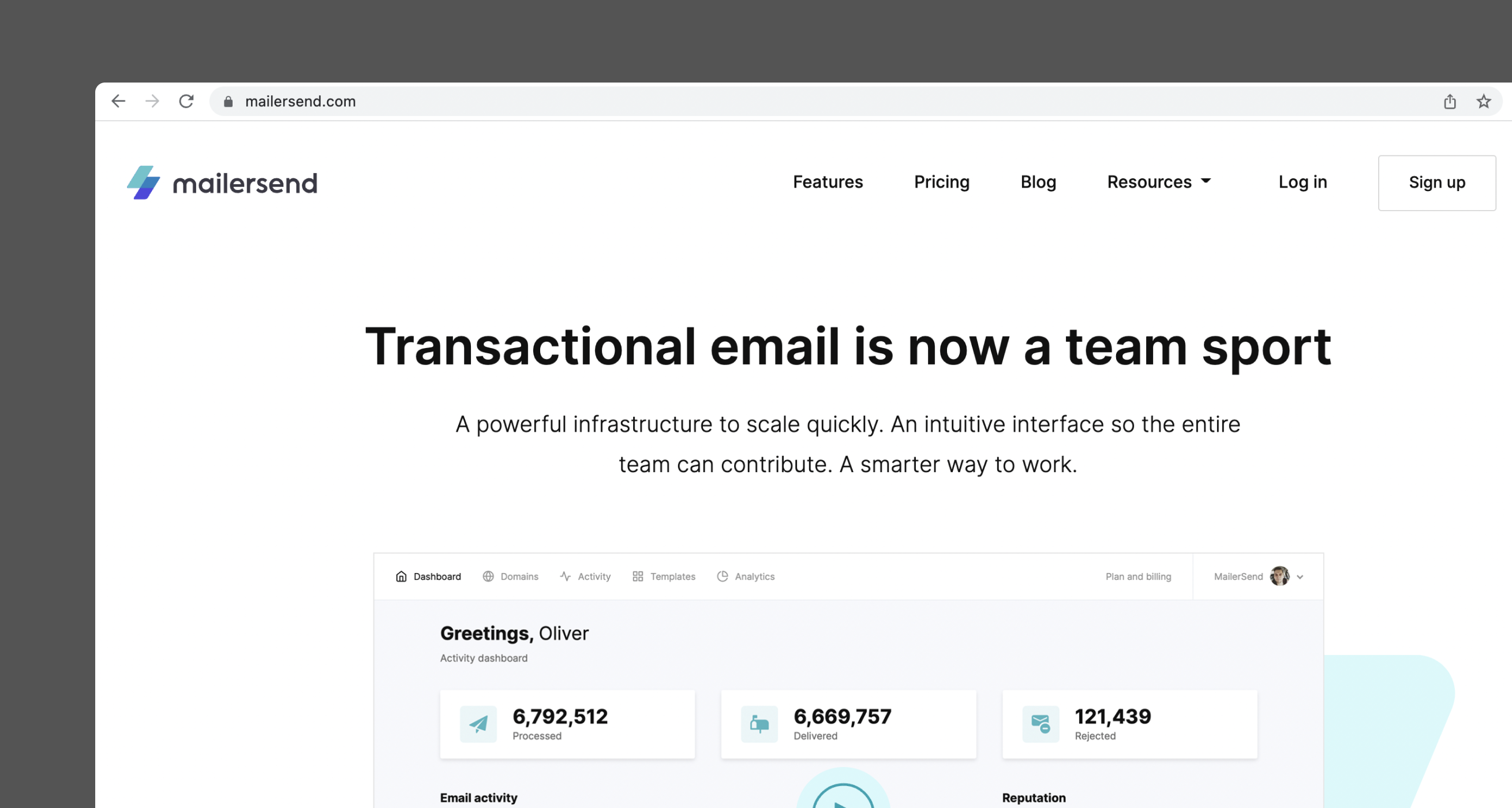 In addition to email marketing, another hot trend in 2022 to grow your brand is by using transactional emails. Transactional email service MailerSend makes it easier and faster for developers to set up, maintain, and scale transactional email. Because the software is so intuitive, members from other teams can easily contribute as well. For example, a writer can make content changes to specific emails, without getting lost in a highly technical environment. The first 12,000 emails are free and then you only pay for what you send.
Quick rundown
Audience: Anyone that needs a better approach to designing and delivering transactional email

Pricing: The free plan includes 12,000 emails per month, and each additional email thereafter is $1. If you want to send more monthly emails or unlock features like unlimited seats, inbound routing and multiple sending domains, you can upgrade to Premium, starting at $25 a month.

Free trial: Yes, free plan available
➜ Start building: MailerSend
Bonus: No-code communities
Getting started with your no-code project is one thing, completing it is another. Along the road, you might come across a few obstacles (like with any new skills you're learning) or motivational dips, which is when a community can be super useful. Build and bond with no-coders from all over the world!
1. Makerpad
With over 350 tutorials and a large community of more than 11,000 members, Makerpad is ranked as the #1 no-code community. This is the place to start your journey and learn about no-code online with cohort-based courses, where you'll be building in real-time with others. Makerpad is the most comprehensive educational space to fully dive into no-code!
P.S. Ycode is also on Makerpad, see our profile here.
2. Ycode Community
This community is where people that build their projects with Ycode gather to socialize. There are different corners to chat with each other: from general no-code talks to showcasing your projects and asking for feedback. Team Ycode also posts announcements and their latest release notes in the community.
3. 100DaysOfNoCode
A time frame to learn a skill combined with a supportive community is a recipe for success. Meet 100DaysOfNoCode, the online community that pushes you to commit to no-coding for 100 days straight and share your progress whilst you learn. With a comprehensive online course, weekly workshops, a learning lab and member-led events, there's no shortage of no-code content.
Join the 100DaysOfNoCode ​​community
Established in 2020, Nucode is another great no-code community. It's a public space to talk about everything no-code and find experts that can help you build your dream project. Inside the community you'll find a meetup.com clone (of course, created without writing code) where you can host and attend (online) meetups and make friends. There's also a large directory of no-code tools, including examples of community products. Enough to explore in this community!
Over to you! 
The many ways in which no-code can help solopreneurs and teams are clear, which is why so many people are closely following the trend or jumping onboard themselves. In this article, you've learned about the different no-code tools and communities out there, which leaves us with one question: When will you start building amazing things for the web?
What no-code app platform is on your list to try? Comment below!